October 1, 2017
Wilf
0 Comments
Together we stand, divided we fall
In 2016, John Cook attended Hohner's prestigious harmonica accreditation training programme at their headquarters in Trossingen, Germany. He was subsequently appointed a member of Hohner's worldwide accredited Service team.
Today, John manages and operates an excellent harmonica repair and modification service from his base at East Coast Music in Hornchurch, UK.
In a very short space of time, Jonh has become thego-to repair and modification engineer for Hohner harmonica owners, not only in the UK, but internationally.
Come on now people, let's get on the ball
Periodically, John runs small harmonica repair workshops, and this autumn we joined him alongside a small band of harmonica repair enthusiasts. Covering a wide range of essential skills, from blueprinting new harmonicas out of the box, to standard maintenance procedures and fixes, the day was fully hands-on and well worth the effort.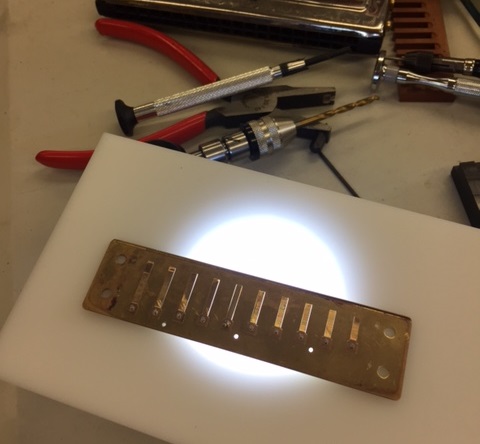 We dismantled harps, we cleaned harps, we tuned reeds, we gapped reeds, we replaced reeds, we embossed slots, we chatted and we laughed. We even took our first steps in harmonica customisation; by which time we'd gathered a wealth of top tips and handy tools. Best of all, we came away knowing how to approach and solve a range of problems that lurk beneath the average diatonic cover plate.
Come on, come on, let's work together
If you need help restoring or repairing a broken harmonica, you'll find a link to John's website below. But perhaps you'd like to meet John yourself and learn some helpful skills like sanding your harmonica comb and draw reed plate for greater air tightness, correctly gapping your reeds for improved response and, of course, tuning your own instrument confidently.
In which case, get along to the UK's annual National Harmonica Festival, Harpin' By The Sea harmonica festival, or to the Blues Weekend in Bucks, where John leads some wonderful drop-in sessions for diatonic and for chromatic players.
Alternatively, check out John's website and book yourself in for a super Sunday of indulgence in the dark art of harmonica repairs and maintenance. You know it make's sense.